Jo-Ann MacNeil was born in Toronto, Canada in to a film family, her father an award winning Cinematographer. After completing a two-year Film and TV make up program at Sherdian College in Toronto, Jo-Ann began a two-year apprenticeship in prosthetics with William D Morgan in 1984.
Her first Head of Department job came soon after her acceptance into membership of IATSE Local 873 in 1986, when she headed up the second unit of the classic Police Academy 4. 28 years later Jo-Ann's professional journey as a make up artist has taken her through every genre, period and media, from feature films to television. Whether working as Head of Department on big budget feature films, or micro budget art house stories, her commitment and focus remain steadfast in her challenge to bring the vision to life.
A member of The Academy of Canadian Cinema and Television, in 2014 she was awarded the Canadian Screen Award for Achievement in Make Up in a Feature Film for her work as Make Up Designer on The Mortal Instruments: The City of Bones.
Driven, focused and meticulous, she has always prided herself on staying current with make up trends while staying true to the classics. She uses her attention to detail and her ability to use her experience to translate any concept, genre or idea to a coherent complete character on screen.
Recent work includes Key Makeup on Denis Villeneuve's Blade Runner 2049, Head of Makeup on David Ayer's Suicide Squad, Head of Makeup on Mark Williams' The Headhunter's Calling and Makeup Designer on xXx: The Return of Xander Cage. Jo-Ann is currently Makeup Designer on Shazam directed by David Sandberg and starring Zachary Levi, Mark Strong and Djimon Hounsou.
Based in the UK, Jo-Ann travels worldwide to wherever the Artistry takes her.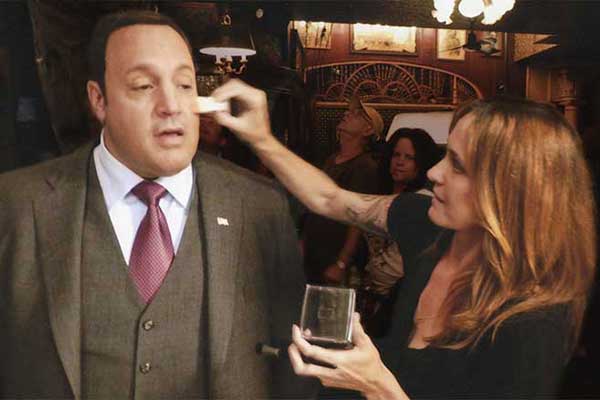 Jo-Ann applies finishing touches to Kevin James on the set of Pixels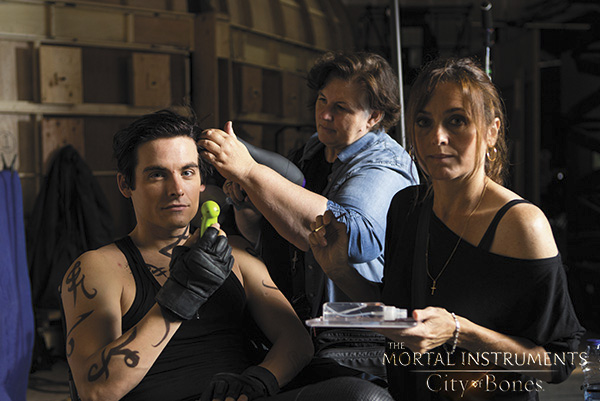 Jo-Ann on the set of The Mortal Instruments: City of Bones